How To Order Car Parts Online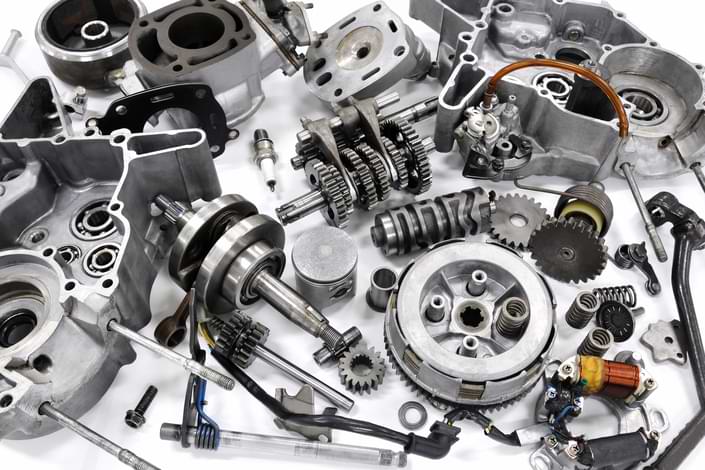 ---
Looking for more affordable replacement parts for your car? The internet is a treasure trove of hard-to-find car parts at affordable prices — just check out Machter, and you'll see what we mean. However, we know how intimidating buying auto parts online can be, especially for first-timers. That's why we've put together this guide, so you'll have an easier time shopping online.
Information You Need to Know Before Shopping
It's best to be prepared before you start something. This is especially true when you begin shopping online for car parts. It's just easier to find the right spare part when you have all the information you need at hand. You'll be wasting no time and money on trial and error when you know what you want and need.
Your Vehicle's Basic Information
The easiest way of finding the correct spare part is to know your vehicle's basic information: make, model, year and series. Typing this information on the store's search system will lead you to the products with the right fit on your car. You can typically find this data in your car's owners manual.
The Replacement Part You Need
This is where you'll be doing thorough due diligence. To know what spare part you need, you must have the correct diagnosis for your car and identify what needs to be replaced. You can do your research, ask friends and online forums, use scanner tools, but the best way is to consult an expert — your trusted mechanic.
Where Is the Best Place to Buy Auto Parts Online?
With a sea of online auto parts stores out there, how can you find a reliable one that can supply what you need? We have some ways to filter your list so you can find the right car parts store for you.
Look at the Range
When you're shopping parts online for the first time, you might find unfamiliar terms such as "OEM" or "aftermarket". These are classifications of auto parts. Understanding the differences between these labels will help you determine which stores you should shop at.
Genuine or OE (Original Equipment)
Genuine parts refer to the exact component installed on your vehicle when it was first manufactured. These tend to be the most expensive, but you can also generally expect a high level of quality.
OEM or Original Equipment Manufacturer
OEM parts are manufactured by the company which built the original components for the auto manufacturer. They're the exact parts that came with your vehicle but without the manufacturer's logo. OEM parts are very reliable and usually cost less than genuine parts.
Aftermarket parts are also designed to fit and function in your vehicle, except a different company makes them. Depending on the quality, it can give the same performance as your OE or OEM parts but offer a significant savings advantage. For example, Machter Auto sells quality aftermarket parts, ensuring our range offers reliability and affordability.
Used car parts are second-hand parts that likely come from scrap or wrecked vehicles. Although these are the cheapest options, it can be hard to know the durability and quality when buying used parts.
Look at Reviews
Word of mouth and testimonials are the best way to know how a store handles their customers, orders, deliveries, and whether they are honest or not. You'll likely know what to expect from the general consensus of the reviews. Simply search their reviews on Google and find out their reputation. Then, make sure to choose one that has excellent reviews and the least complaints. Of course, be cautious of anywhere that seems too good to be true — they may have fake reviews or delete complaints.
Talk to the Customer Service Team
Shopping online for parts can be overwhelming, especially for a new car owner or first-time online car parts purchaser. If you're having difficulty, online auto parts retailers often have a customer service team to aid you in your search. They should be informed and knowledgeable, while being able to communicate relevant information to you easily.
Look at the Pricing
The automotive parts industry offers a wide range of products. The store you choose may depend on price considerations and personal preferences. That's why you need to set a budget, so you can determine the amount you're willing and able to spend for a particular replacement part. You can then sort through options that fit your price range. You can narrow the search by using the price filters found on most retailers' websites. Then, you can sort through the product options that fit your price range. It will effectively save you time by limiting the search to the products that fit your budget.
Fair warning though, you also have to be wary of those who sell suspiciously cheap products. When you research and compare prices, of course, the more affordable option can be attractive. But if the price is far too low compared to all its competition, then it's wise to be a little suspicious.
How to Place Orders
If you've found the right product at your preferred store, then it's time to place your order. You may think this is the end of our guide, but there are still a few more things to consider.
Confirm You've Picked the Right Part
Not only do you need to ensure you're purchasing the correct part for the right price, but you also have to verify the return policy and warranty. This is just in case what you've ordered doesn't fit or is defective.
If you're purchasing auto parts online, you should always read the fine print to ensure their policies work for you. For example, one website may offer a better price, but it might not have an ideal return policy. So study the details upfront, including their policies, to prevent disappointment later.
Why Machter is the Best Online Auto Parts Store
Machter Autoparts has built a reputable brand from the ground up by supplying a vast range of great quality aftermarket parts at affordable prices. We've been selling auto parts online in Australia since 2002. Our hard work has paid off with happy customers worldwide.
We always aim to give you the best value for your money, and that's why many mechanics trust us. We also have an experienced customer service and sales team that are always ready to help you find what you need. So what are you waiting for? Buy car parts at Machter Auto Parts now!
---
Leave a comment